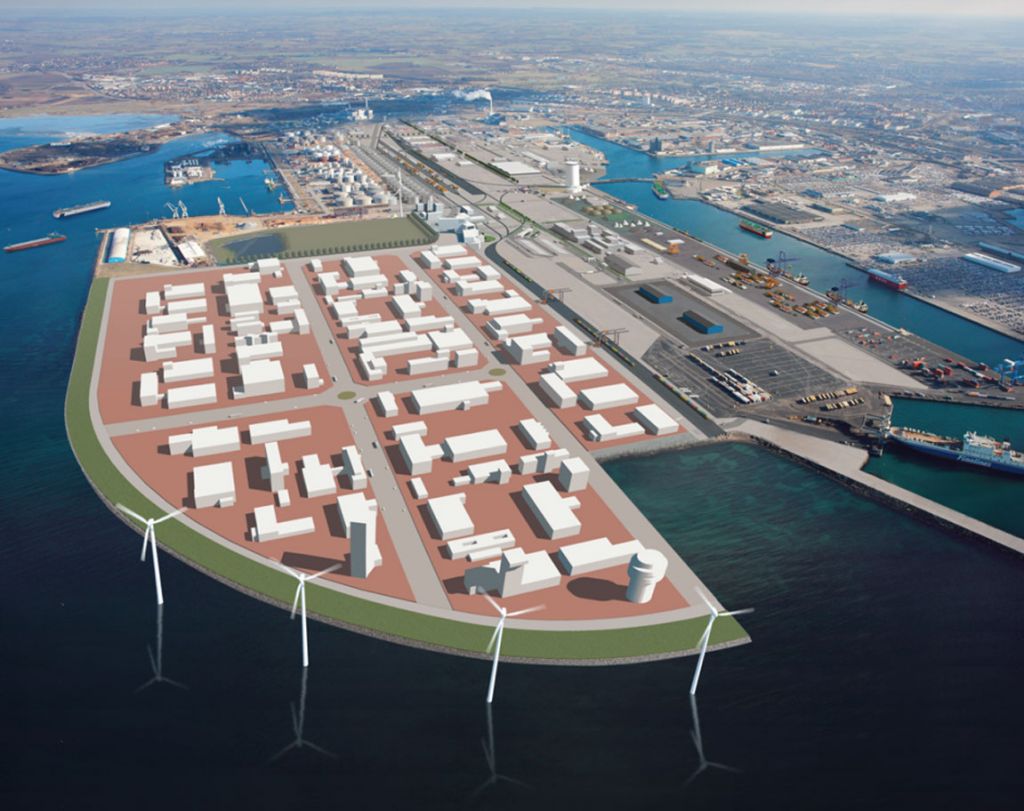 The City of Malmö's Technical Services Committee has today approved a land reservation for MG Real Estate in Malmö Industrial Park, located in Malmö's Northern Harbour. The company, from Luxembourg, has made a reservation of approximately 50,000 square meters for logistics and warehousing operations.
MG Real Estate is the first foreign company to make a land reservation in Malmö Industrial Park.
"Malmö Industrial Park, with its incredible location in the center of the Greater Copenhagen Metropolis, is starting to get attention from international companies. I believe that the interest for Malmö as a logistics hub will continue to increase, partly for its great location but also due to partnership opportunities with the harbor and other companies in the area", says Anna Bertilson, Director, Technical Services Committee, City of Malmö.
The company is currently establishing a Scandinavian subsidiary that will continue its expansion in the Nordic region. The company has expressed a desire to construct a logistic and office facility, about 50,000 square meters of space, with warehouse buildings and associated facilities for leasing to customers.
"MG Real Estate has been present in Denmark for almost 3 years. Based on this success and the demand from our clients, we want to expand to the rest of the Nordics, and more specific, to Sweden. With this reservation, we will demonstrate that this strategic hotspot at Malmö Industrial Park will best serve the needs of our clients in the region. We see this development creating new opportunities and growth for our client's businesses and also strengthening the importance of the Malmö harbor for the whole region as a multimodal logistic hub.", Anton Van Vlerken, Chief Country Officer – Netherlands and Nordics, MG.
"MG Real Estate's establishment in Skåne is a milestone because it is a well renowned company in the logistics sector that has chosen Malmö as its entry point to Sweden. Skåne is an ideal logistic location, and a strategic entry point for the Nordics due to its proximity to the European continent and multimodal transport connections worldwide via rail, road, sea and air", says Ulrika Ringdahl, Managing Director, Invest in Skåne.
Companies that establish in the Malmö Industrial Park area will contribute to increased employment opportunities, strengthening the port's operations and increasing freight volumes over the quay. The city of Malmö works closely together with Copenhagen Malmö Port (CMP) in the development of Malmö Industrial Park.
About MG Real Estate
MG Real Estate (The Company) is from Luxembourg and works to build, develop and manage office and logistic properties. They have developed facilities for larger companies such as Philips, FedEx, DHL, Primark, CAT, Deloitte, H&M, Maersk and others in Belgium, the Netherlands, Germany and Denmark. During the past year, the Company has built a logistics property inside the Copenhagen Airport area.
The Northern Harbour – Malmö Industrial Park
Malmö Industrial Park is an expansive industrial area in southern Sweden. It is located in the middle of the Greater Copenhagen Region, which is the Nordic region's largest labor market region and most densely populated metropolitan area. At the site, companies in manufacturing, processing and distribution are offered centrally located industrial land. In addition, the sites are directly connected to Copenhagen Malmö Port's (CMPs) facilities, where the trimodal logistic solutions, such as train, road and sea traffic, are effectively linked. The City of Malmö is working for a sustainable port and industrial operations. The city collaborates with the operations in the port area to find smart solutions in recycling, logistics and energy, so-called industrial symbiosis.
About Invest in Skåne
Invest in Skåne is the official business promotion agency for Sweden's southernmost region Skåne. Invest in Skåne provides professional advice and services to international companies considering Skåne for future investment or establishment and assists local companies with trade and export.
Contact
Olle Anderberg,
Project Manager, City of Malmö,
olle.anderberg@malmo.se,
+46 708-25 62 99
Ida Winroth Brattström,
Communications Officer, City of Malmö,
idawinroth.brattstrom@malmo.se,
+46 708-23 91 33
Ulrika Ringdahl,
Acting Managing Director, Invest in Skåne,
ulrika.ringdahl@skane.com,
+46 76 889 06 65
Amanda Lapadat-Nordström,
Investment Advisor – Logistics, Invest in Skåne, amanda.lapadat@skane.com,
+46 72 593 9378