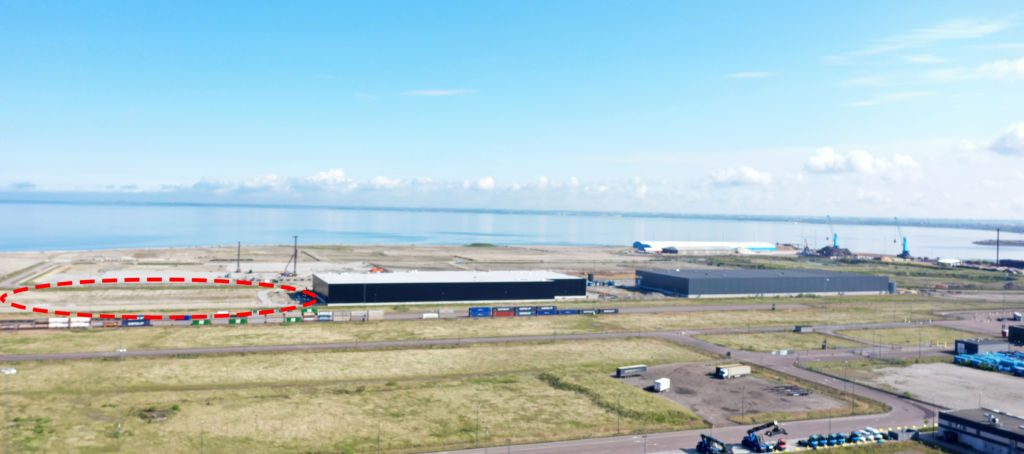 Malmö Industrial Park continues its development towards becoming an important hub for a northern European transport corridor. The Dutch logistics company Westerman Multimodal Logistics wishes to expand its existing facility in Malmö Industrial Park. The City of Malmö's Technical Services Committee has now approved an additional land reservation for MG Real Estate to make this possible.
Requested by its tenant, Westerman Multimodal Logistics, MG Real Estate are planning to expand its logistics facility by another 26,000 m2. With the expansion, a large property of about 70,000 m2 will be created. The land reservation means that an additional 200 job opportunities can be created within the property and other port-related activities in the area.
Westerman has extensive experience of intermodal freight transport and is strongly connected to central Europe via the Netherlands, and to other major markets in Europe and other continents. With the company's desire for expansion in the port, the City of Malmö can continue its efforts to strengthen the infrastructure for railways in the port area. Moving long-distance freight transport from road to rail means a significant reduction in emission levels as significantly heavier goods can be loaded onto trains.
The handling of railway goods will take place in close cooperation between Westerman and the port operator Copenhagen Malmö Port (CMP), with a direct connection to the container and ferry terminal.
This is positive for our business but also for the entire city and our partners. Our clients want sustainable solutions, and we will be able to deliver them, says Lambert van Dieren, CEO of Westerman Multimodal Logistics.
The development of Malmö Industrial Park is collaboration between the City of Malmö and Copenhagen Malmö Port (CMP). The companies that establish in the area are expected to contribute to increased employment, strengthen the port's operations and increase freight volumes across quay. The company establishments in Malmö Industrial Park are ongoing.
Our investment in Malmö Industrial Park is accelerating! The port of Malmö continues its development towards becoming a trimodal logistics center in the Öresund region, says Anton van Vlerken, Nordic and Netherlands manager at MG Real Estate.
Contact
Olle Anderberg, Project Manager, City of Malmö, olle.anderberg@malmo.se, +46 708-25 62 99
Anton Van Vlerken, Chief Country Officer Netherlands and Nordics, MG Real Estate, avv@mgrealestate.eu, +31 650 49 94 64
Lambert van Dieren, CEO, Westerman Multimodal Logistics, lvandieren@westermanlogistics.com, +31 648 163 640